Photo 1 - Phibsboro based KD133 and D526 and Donnybrook's KC55 are pictured laying over at the 10 terminus in Belfield. (8th November 1987).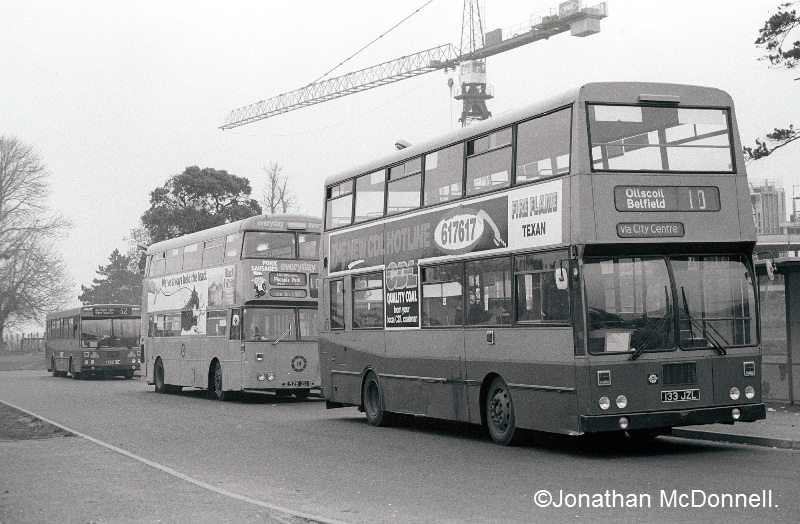 Photo 2 - Donnybrook's KD361 on the 45 meets Ringsend's brand new AV6 on the 15B on College Green. (June 2000).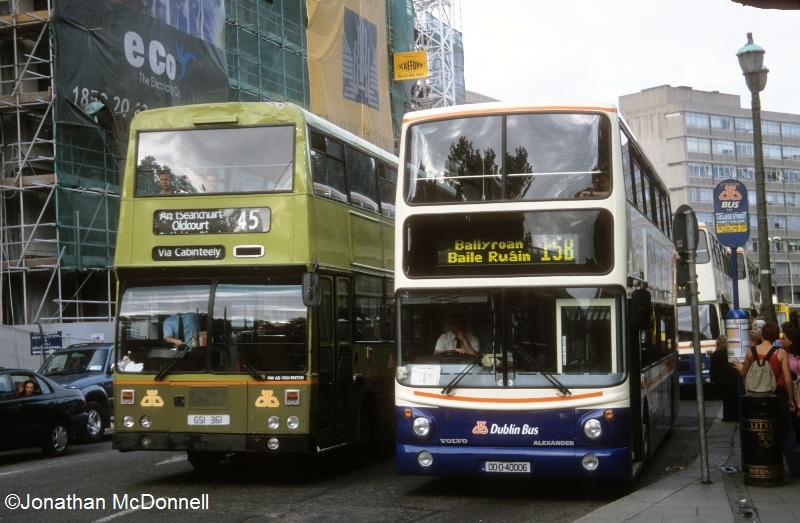 Photo 3 - Ringsend's Leyland Olympian RH106 in a freshly applied all over advertisement for 'Chef' is seen on display in the yard. (29th May 1996).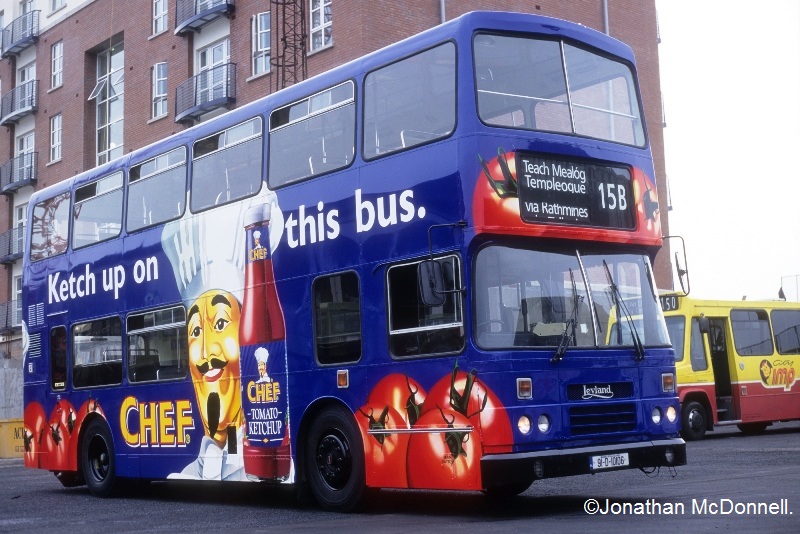 Photo 4 - Conyngham Road's recently over hauled Leyland Atlantean D316 is pictured loading on Aston Quay on a 24 to Heuston Bridge. (1985).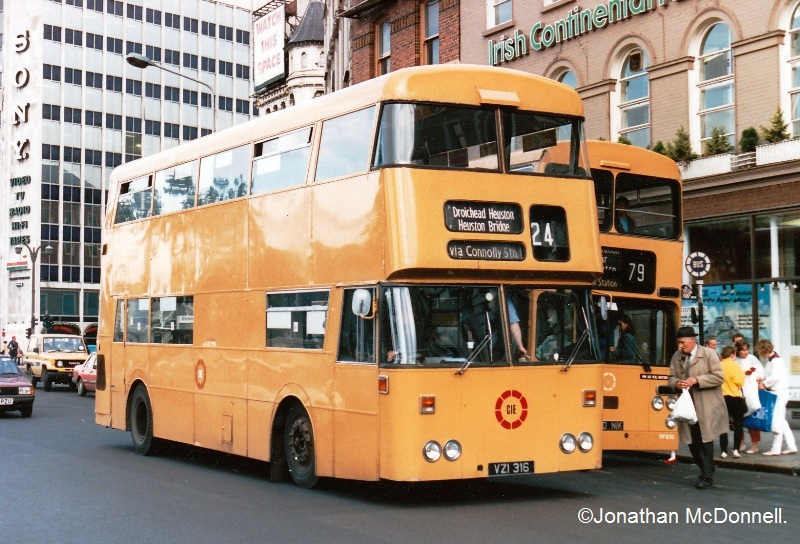 Photo 5 -
Broadstone's WV40 is pictured at Morton Stadium Santry operating on the Red route during the Special Olympics in 2003. (October 2003).
Photo 6 - Ringsend's tired looking KD328 is pictured sitting on Aston Quay ready to operate a 77 to Tallaght. (1987).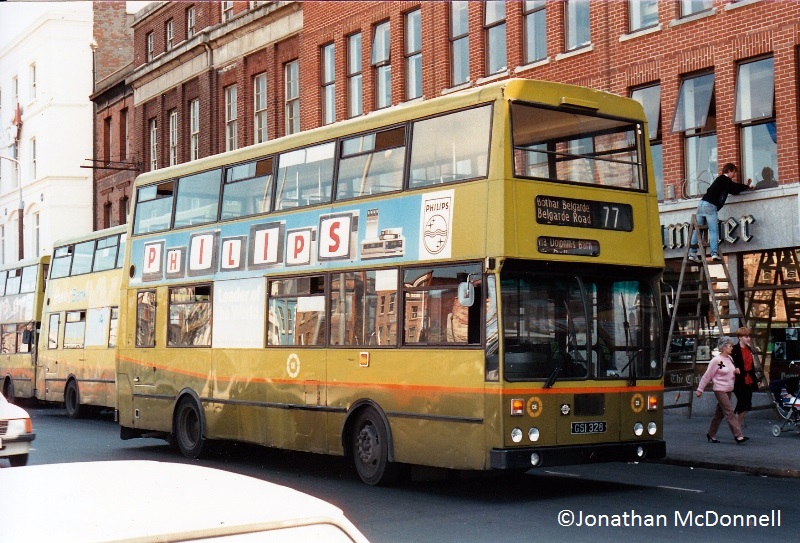 Photos 7/8/9.

Privately owned former CIE Waterford 'R788' attended the UK for an extended period commencing May 1988. The bus was ferried on the first stage of the journey from Donnybrook garage to Manchester (to the the now closed GM Buses 'Princess Road' depot) via Dun Laoghaire -St Columba ferry- Holyhead-Liverpool - Manchester PR. Later it went onwards to London.The route to Manchester saw R788 take the more 'scenic route' along the A5 via
Betws-y-Coed in Wales. Perhaps what was more remarkable about this journey was more a testament to the driver than anything else.
A professional driver by trade, Tony Smith was in charge. Tony had only just recieved his 'D' licence days previously.
It was a real baptism of fire as he skilfully manouvered R788 across difficult terrain in apalling weather.

Tony Smith passed away, November 5th 2012.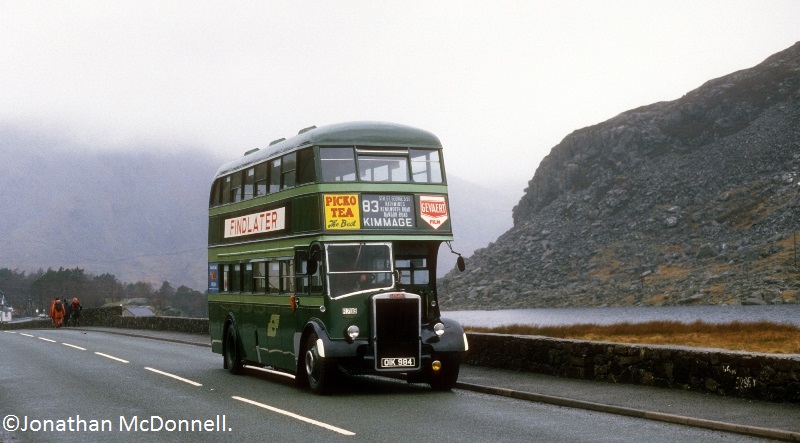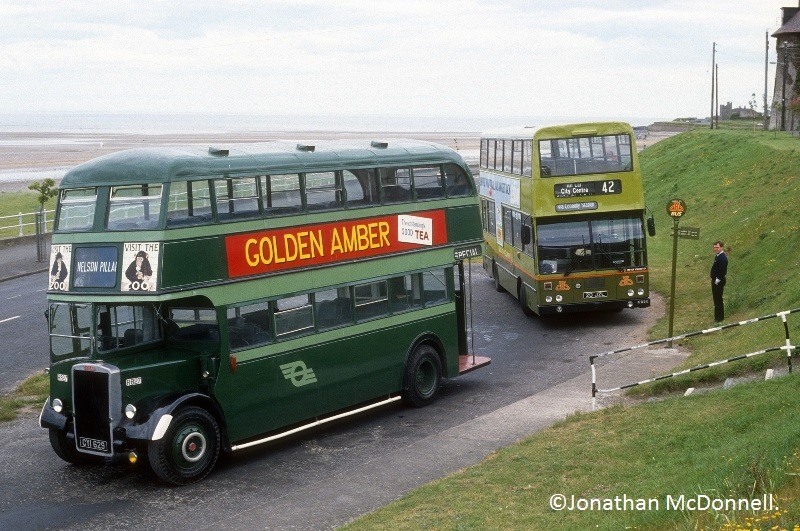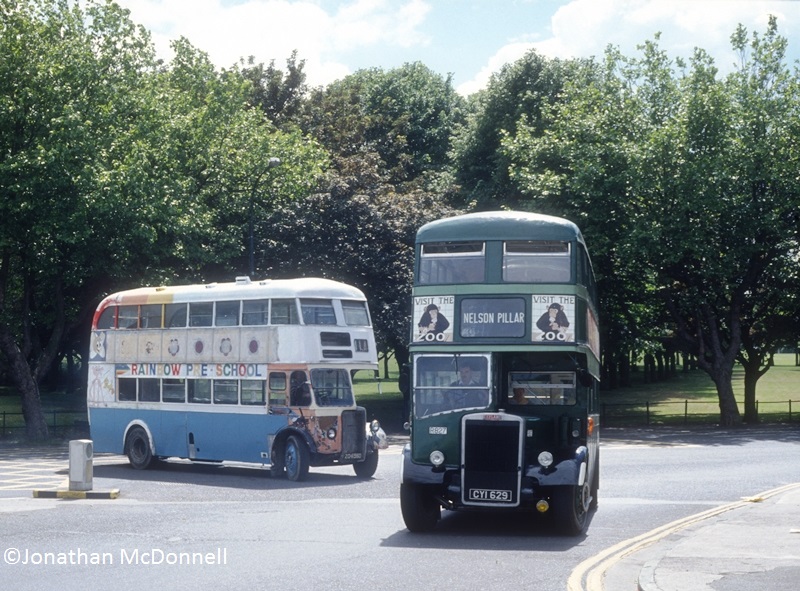 Photo 10 - Conyngham Road's KD319 is pictured lined up on O'Connell Street ready to operate a Slane special. (1987).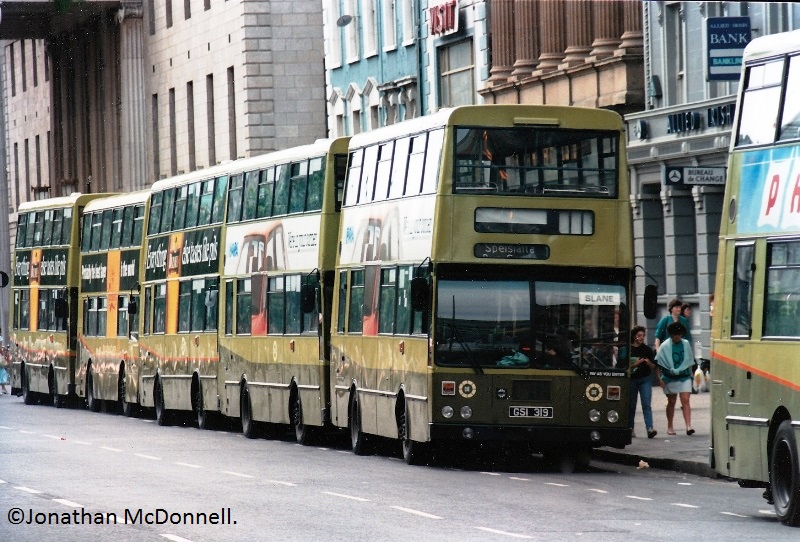 Photo 11 - Ringsend's D753 is pictured at Eason's clock on O'Connell Street on a 3 to Whitehall. (1986).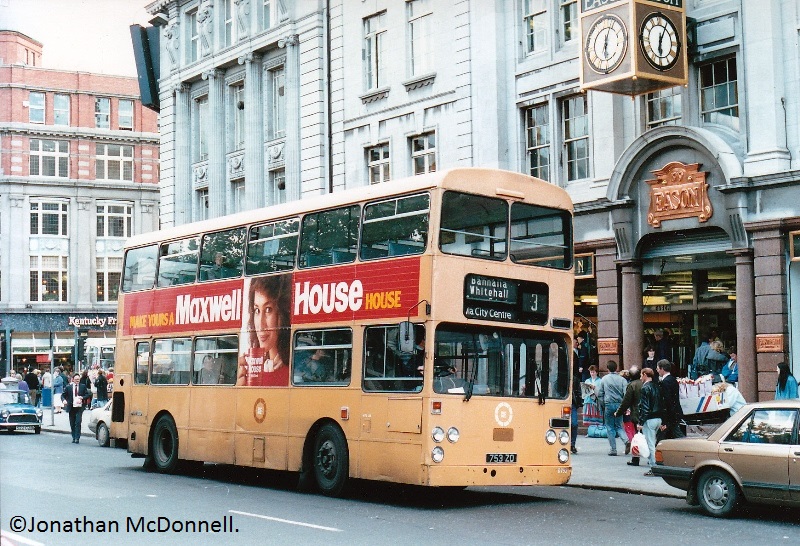 Photo 12 - Donnybrook's hand painted DF755 in an all-over advertisement for 'Baileboro Co-Op' is pictured laying over at the 6 terminus on Eden Quay. (1986).
Photo 13 - Donnybrook's DF784 is seen on Burgh operating a football special to the Shamrock Rovers ground at Milltown. (17th September 1986).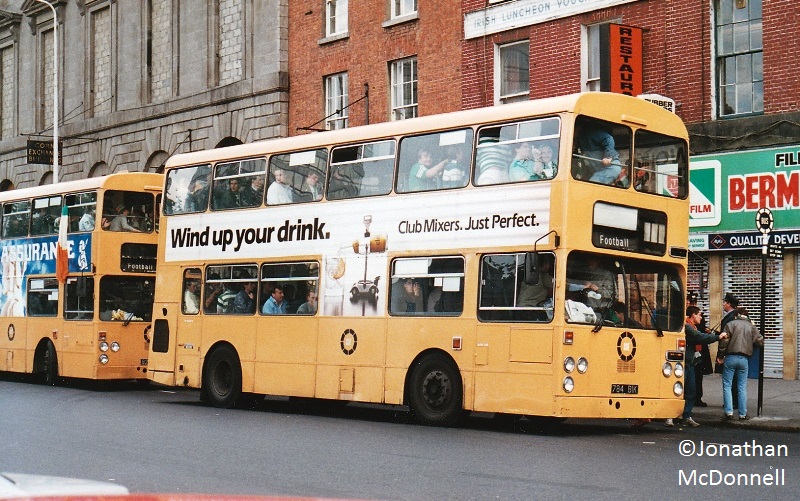 Photo 14 - Newly delivered Leyland Olympian RH146 is pictured in Donnybrook Garage. (19th June 1992).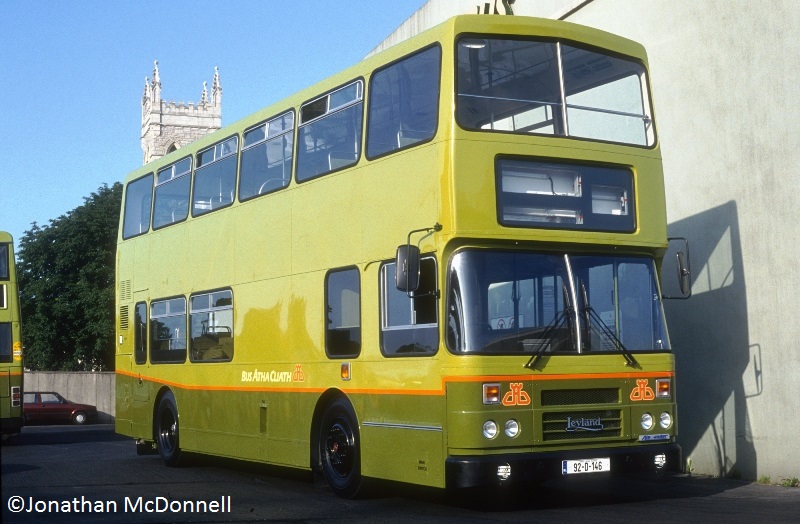 Photo 15 - Conyngham Road's KD291 on a 67A to Matnooth & Bus Eireann's E14 in service, to Tullamore are pictured on the Palmerston bypass. (31st August 1991).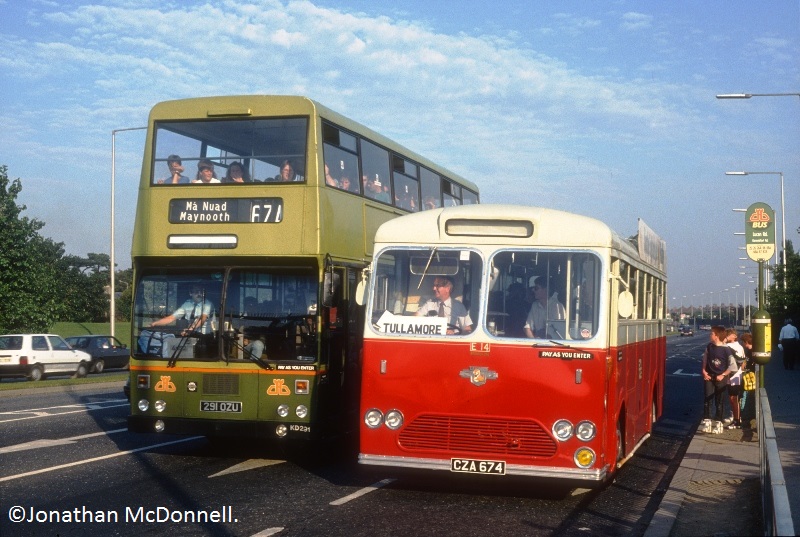 Photo 16 - Phibsboro's Leyland Atlantean DF560 is pictured on Lower O'Connell Street heading Southbound on a 10 to Belfield. (1987).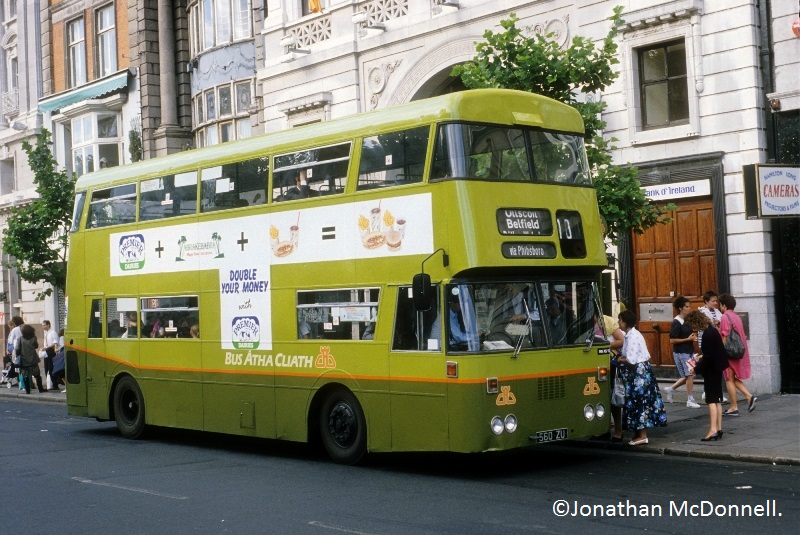 Photo 17 - Donnybrook's KD167 is seen on Molesworth Street operating a 46A from Dun Laoghaire. (1986).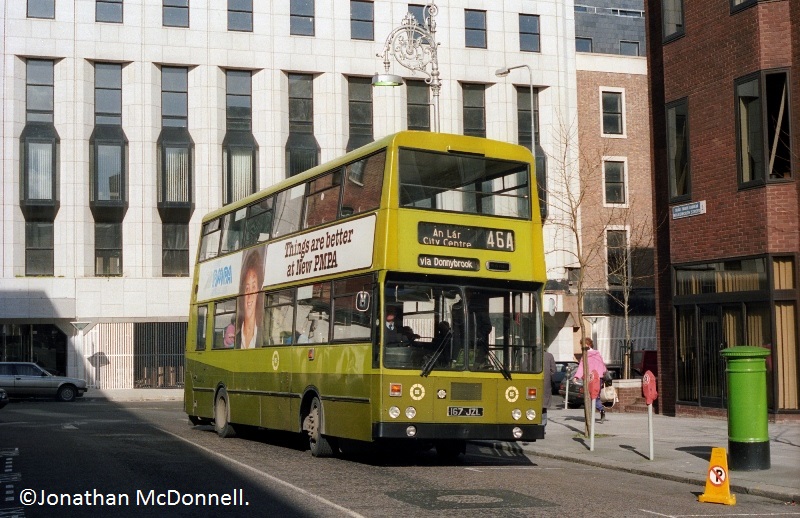 Photo 18 - Summerhill's KD286 on a wintery O'Connell Bridge heading to Santry on a 16. (1986).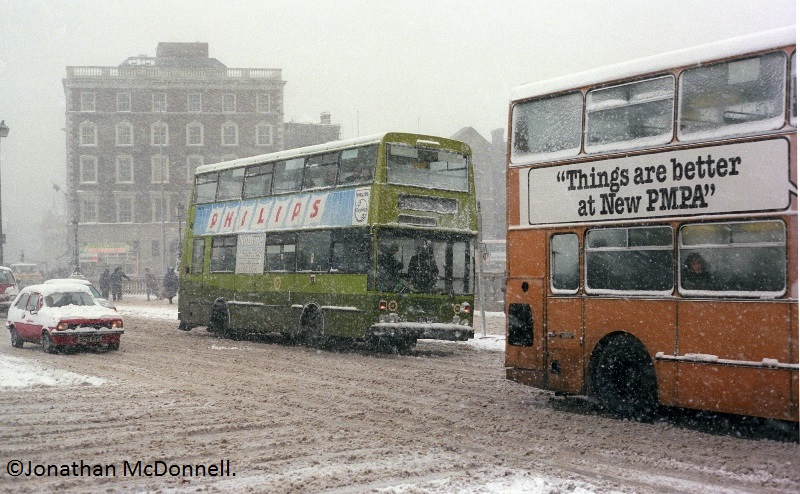 Photo 19 - MCW's Metrobus demo MD1 is pictured at the 44 terminus in Enniskerry Village County Wicklow (27th December 1988.)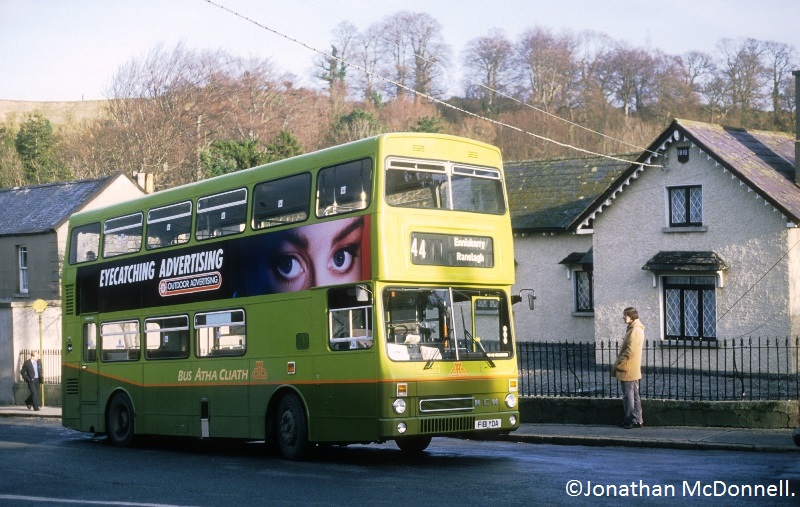 Photo 20 - Two brand new P class aboard the Stena Hibernia Dun Laoghaire Harbour. (January 1993).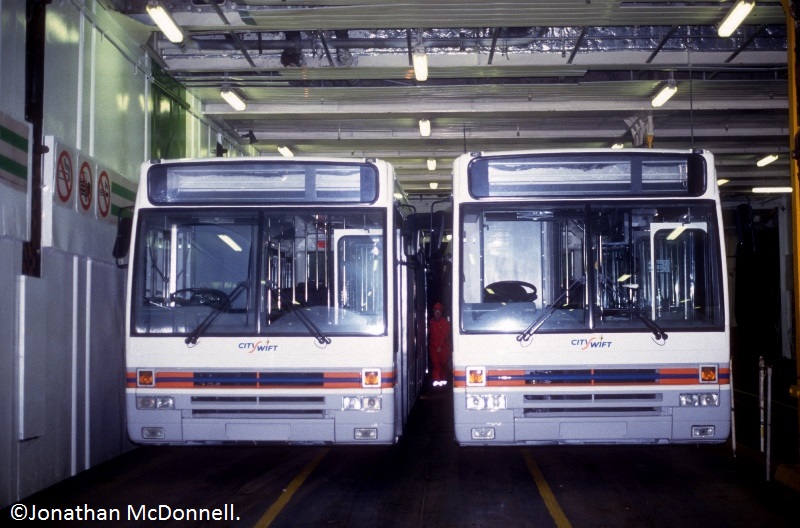 Photo 21 - Broadstone's ME13 is pictured near the 123 terminus at Marino. (1994).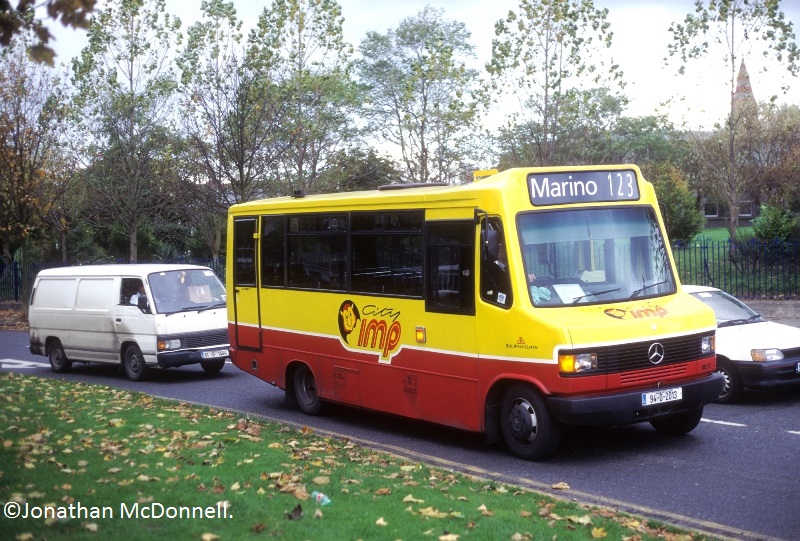 Photo 22 - Conyngham Road's Cummins powered KD146 is pictured off loading on Anglesea Road operating on the Spring Show specials in 1988.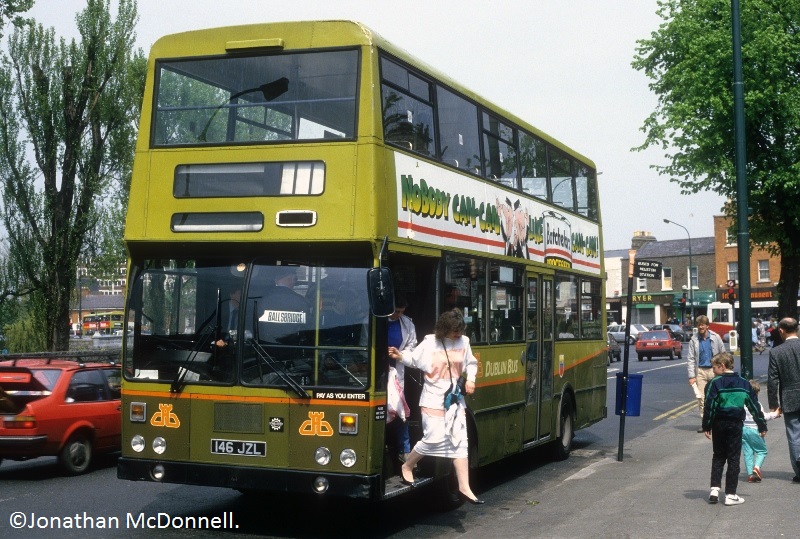 Photo 23 - Summerhill's Leyland Olympian RH139 near the top of the Queue at Slane 1995.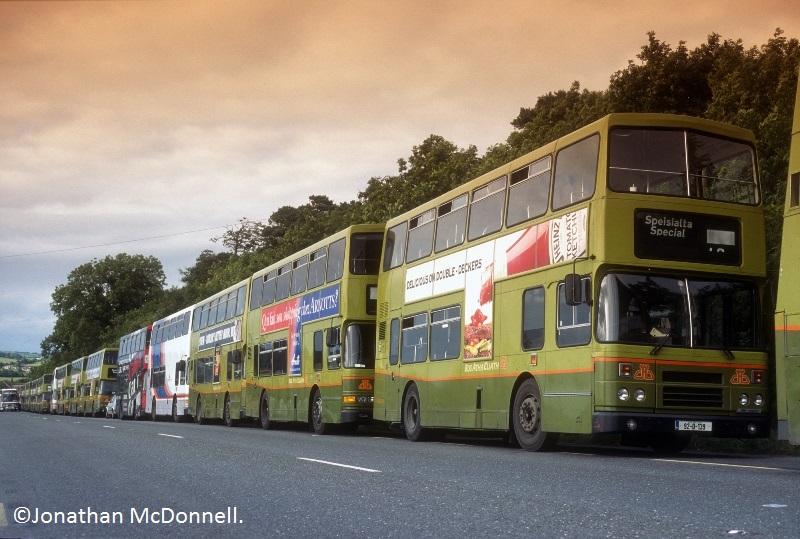 Photo 24 - Donnybrook D290 is pictured loading at the 7A terminus on Eden Quay. (1985.)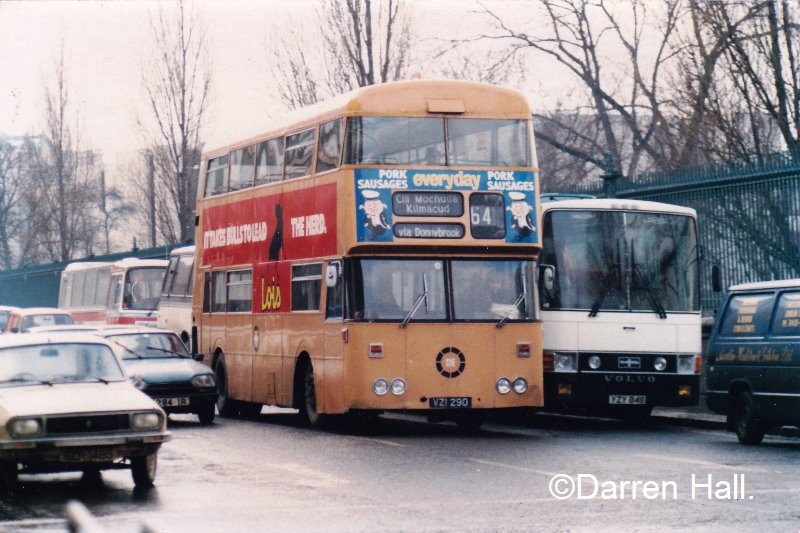 Photo 25 - AD24 and RH86 are pictured in Donnybrook garage wearing an experimental Green livery. (1997.)
Photo 26 - Galway based D341 in an all-over 'Quinnsworth' hand painted livery is seen on Eyre Square, Galway on route 1 to Taylor's Hill. (1985.)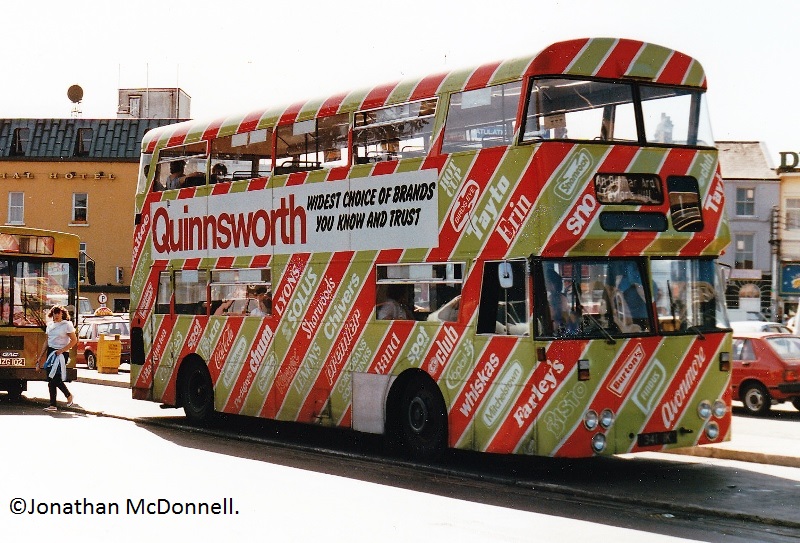 Photo 27 - Donnybrook based KD174 is pictured loading at the 44 terminus in Enniskerry Village. (1986.)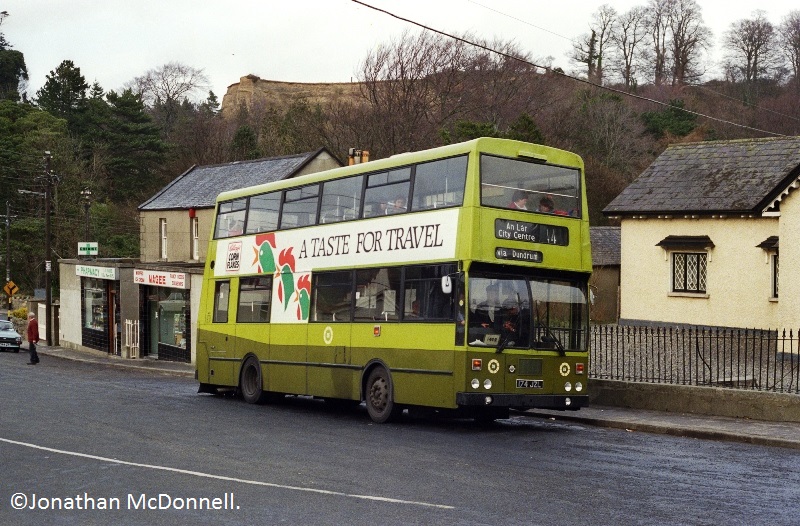 Photo 28 - Phibsboro's D317 is pictured loading at the 34A terminus on Middle Abbey Street. (1984.)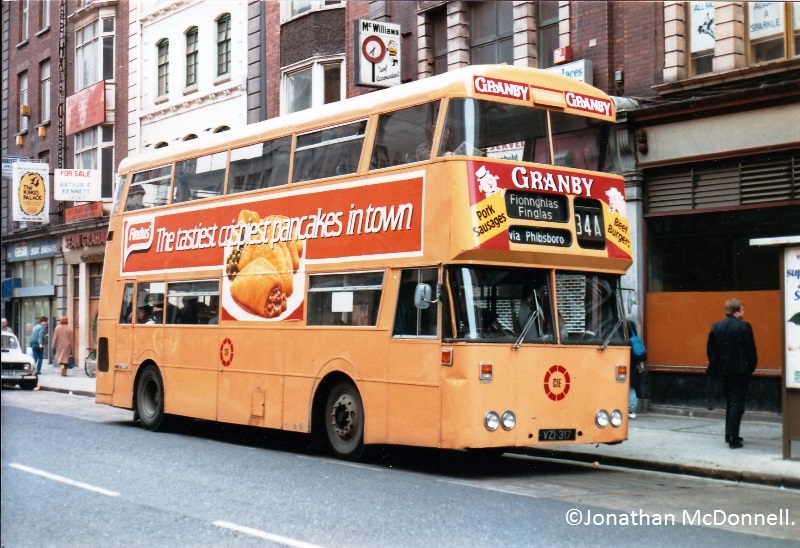 Photo 29 - Conyngham Road's DF795 is seen laying over at the 21/21A terminus on Fleet Street. (May 1984.)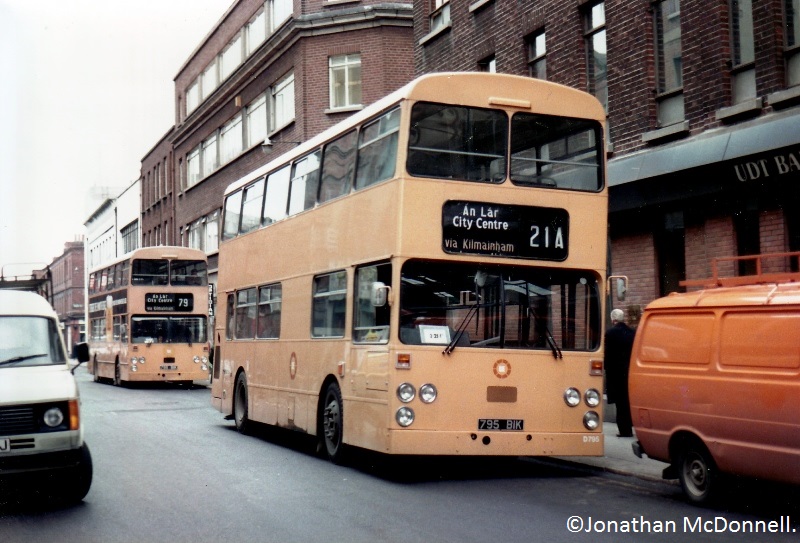 Photo 30 - Donnybrook's D395 is pictured on Burgh Quay ready to operate a match special to the Shamrock Rovers grounds at Miltown. (17th September 1986.)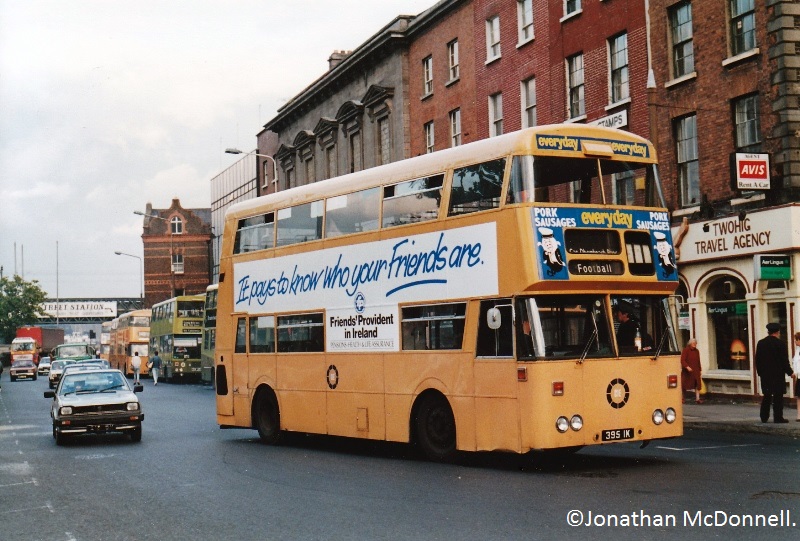 Photo 31 - Summerhill's D699 in a colourful all-over advertisement for 'Dublin Zoo' is photographed at the 16 terminus at Grange Road, Rathfarnham. (July 1986.)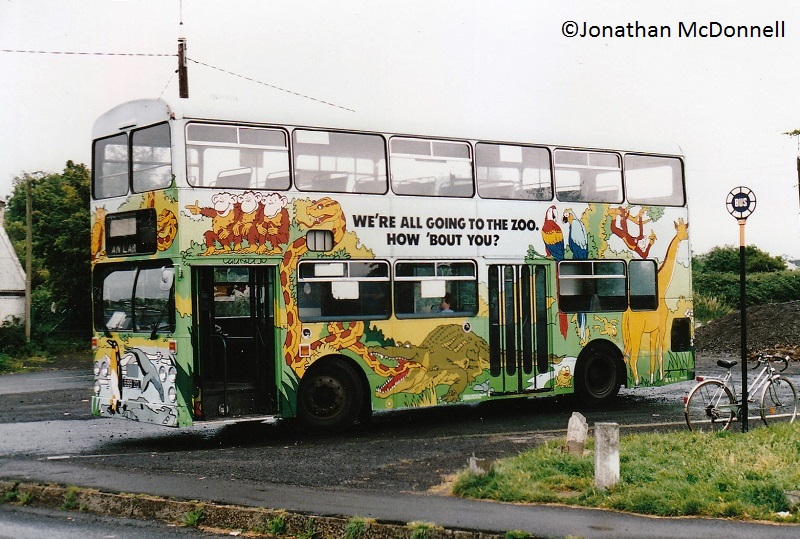 Photo 32- Donnybrook's KD264 on a cold November day is seen on a 44 passing through the Scalp. ( 20th November 1986.)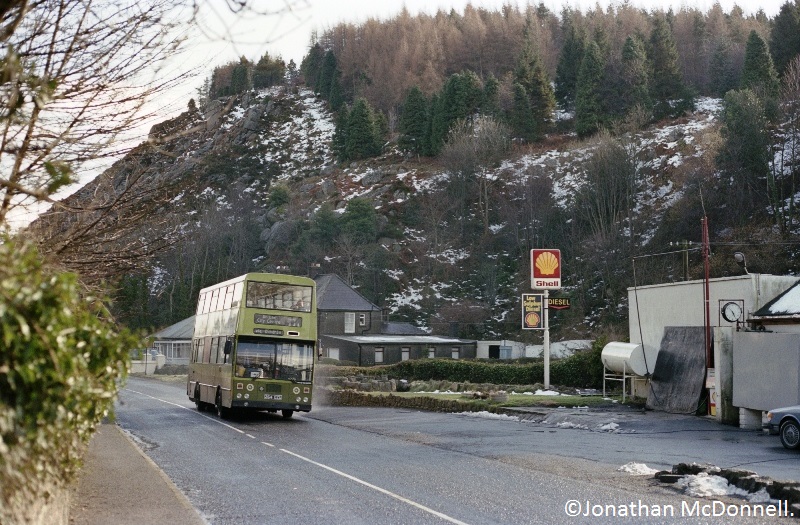 And 22 years later Donnybrook's GT3 is pictured at the same spot passing through the Scalp on a 44 to Larkhill. (25th November 2012)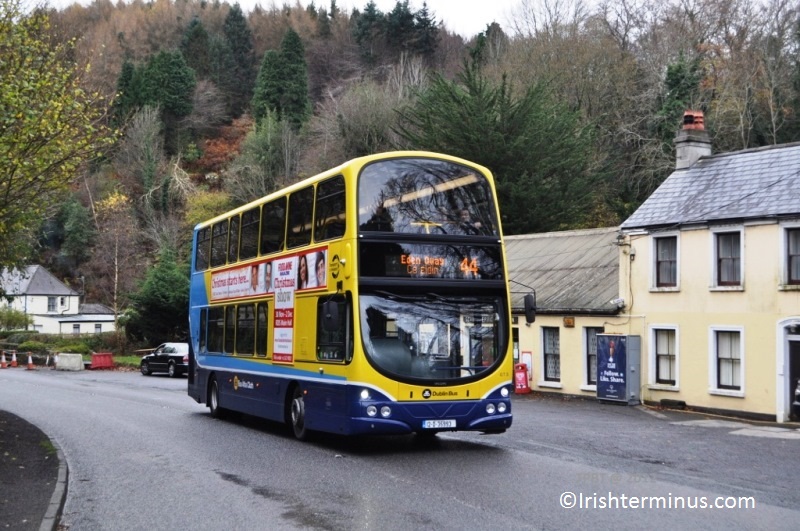 (Photo courtesy of Tim Butler.)